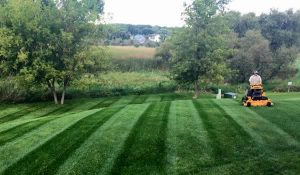 Lawn mowing is more than just a service, it's an art. Our crews specialize in lawn mowing service in the Hartford, Erin, Slinger, Jackson, and West Bend areas! Our crews provide weekly maintenance for residential homeowners, homeowner associations, outlots, government contracting, and commercial businesses. Whether you want your lawn cut while you are on vacation, or you want a weekly service you can count on us.
At Advance Lawn Service Company, we run weekly routes thats do the same properties each day of the week. All of our employees are trained to provide service on the highest standard. Each lawn mowing service visit includes cutting the grass, trimming, and blowing off the clippings. We cut the grass at a different direction each week to minimize any damage to the lawn while giving your lawn that elegant striped look. With our fleet of mowers no property is too large or too small for us. Our team understands that each lawn we maintain reflects directly on the homeowner and our company.
So request a quote today! Then relax this summer knowing that Advance Lawn Service Company will bring you the top quality lawn care that you deserve!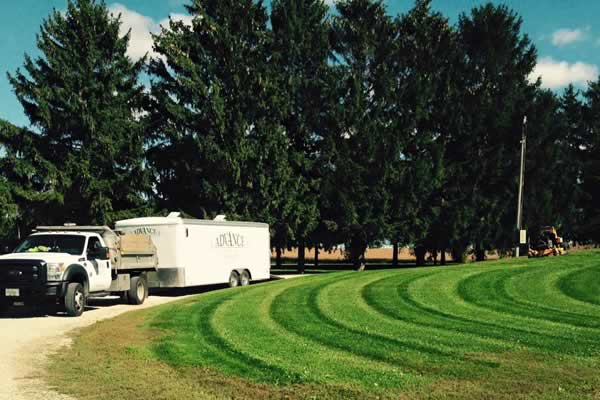 Commercial Lawn Mowing Service.
Advance Lawn Service Company loves helping nearby local businesses in Hartford Wisconsin look great. However, we provide commercial lawn mowing all across Washington County and would love the opportunity to work for your company! In addition to weekly commercial lawn mowing services, we offer flower bed maintenance, fertilizing programs, weed control, mulch, landscaping and much more!
We understand that first impressions can have a huge impact on your organization and would love the opportunity to help you. Please contact us for a free estimate to see what Advance Lawn Service Company can do for you.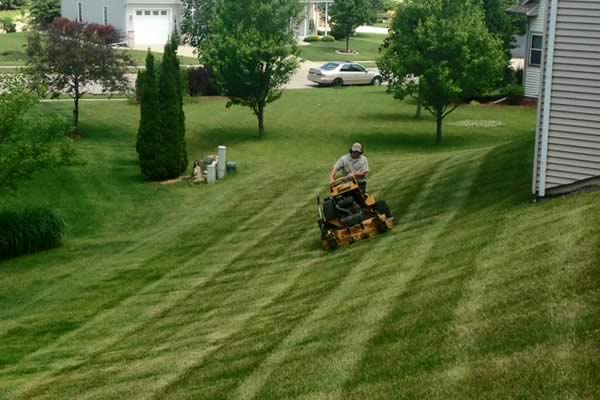 Residential Lawn Mowing Service.
Our roots go back to 100% residential lawn mowing for Hartford Wisconsin and surrounding area home owners. Providing residential lawn mowing helped us learn early on that every lawn is different and requires specific types of attention. We notice the little details of every lawn and strive to make each lawn the best one in the neighborhood.
If you hire us you can rest assured that we will be there each week and provide you the service you deserve and give your lawn the attention it needs. Along with residential lawn mowing, we also provide fertilizing programs, weed control, mulching, shrub trimming, hardscaping, and more! Don't spend your weekends working on the lawn. Let us take care of it for you so you can enjoy the short Wisconsin summer! We offer fast and free estimates anytime.
Get a Free Quote.
Contact Advance Lawn Service Company today to discuss your lawn care, lawn fertilizing, landscaping, or snow removal needs. We're here to help! Just call 262.623.2207 or fill out a quick form online for the fastest service!