Topsoil Delivery or Pick Up.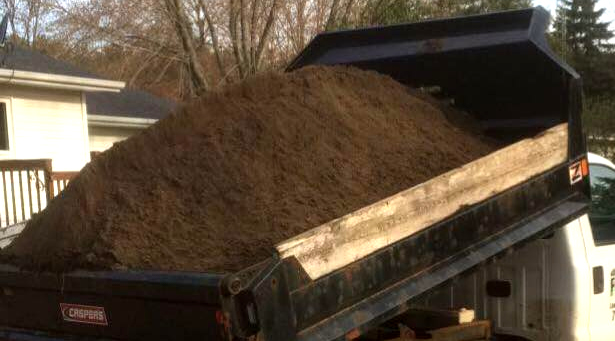 At Advance Lawn Service Company, you can choose between premium topsoil delivery or pick up depending on your needs. Either way you'll get high quality topsoil that is screened and blended with compost/peet for an ultra rich soil mixture that will give you outstanding results. Improve the look of your lawn and gardens dramatically with our topsoil blend whether you are growing grass, plants or vegetables. The soil we use is dark and free from toxins, then when we mix it thoroughly with our premium compost/peet mixture, to give you better moisture retention and even more nutrients.
What is Topsoil?
Topsoil is the very top layer of dirt on the earth's surface. It's the good stuff. The dark, nutrient-rich dirt we use for growing grass and plants. What's actually in topsoil varies depending on where it comes from, but it's usually a combination of sand, clay, silt and decomposed plants along with insects and worms. It's very easy to break apart, dig up, spread around and screen compared to other soils due to its highly organic consistency. It's usually recommended to have about 4-6 inches of topsoil under grass and plants.
When choosing your topsoil, it's important to find a supplier that knows exactly what's in the dirt they are selling you. At Advance Lawn Service, we screen our own topsoil and blend it ourselves. That way we KNOW there are no contaminants in the topsoil we sell and we know the blend we use is top of the line. You can't go wrong with screened and blended topsoil from Advance Lawn Service Company in Hartford, Wisconsin.
Topsoil Calculator
Trying to figure out how much topsoil you need? Just use our topsoil calculator below.
---
See Pricing
Topsoil Delivery Area.
Pick up topsoil yourself at our Hartford, Wisconsin store, or we will delivery any amount directly to your property. Our typical service area is in Washington County towns like Hartford, Slinger, Jackson, Erin and West Bend areas. We also commonly delivery within a 25 mile radius of our store which includes most of Waukesha County, some Dodge and some of Milwaukee County:
WASHINGTON COUNTY
Hartford
Slinger
Germantown
West Bend
Kewaskum
Jackson
Richfield
Ashippun
WAUKESHA COUNTY
Waukesha
Brookfield
Merton
Menomonee Falls
Sussex
Oconomowoc
Pewaukee
Delafield
OTHER CITIES
Horicon
Hustisford
Ashippun
Mequon
Cedarburg
Grafton
Watertown
Call for more!
Get a Delivery Quote for Screened Topsoil.