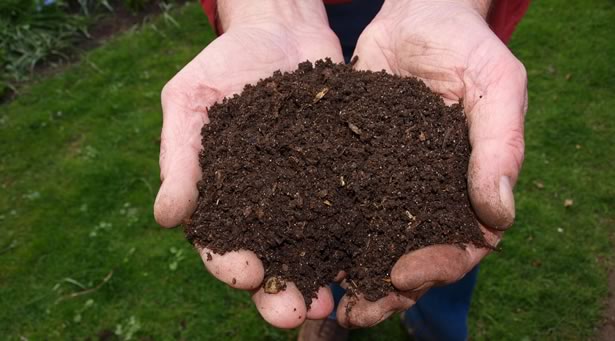 Looking for an ultra rich garden soil blend packed with nutrients and organic compost? Advance Lawn Service Company can deliver garden compost right to your property or you can pick it up at our landscaping store in Hartford, Wisconsin.
Improve the look of your gardens dramatically with our compost whether you are growing plants, shrubs or vegetables. The garden compost we supply is dark, rich and free from toxins.
What is Garden Compost?
In a nutshell, garden compost is a mixture of decomposed organic materials like leaves, shredded twigs and plants. Many gardeners consider it "black gold" because it's so valuable for creating outstanding gardens. Adding compost to soils makes it easier to work with and more nutrient-rich. That's how Advance Lawn Service Company blends its screened topsoil - with compost. However, you can buy just compost as well to use as needed. Most people blend it with current soils in their gardens and pots. In addition to giving soils more nutrients, garden compost makes soil easier to work with and improve its holding capacity. By adding organic garden compost to the dirt you can help improve plant growth and health.
Garden Soil & Compost Calculator
Trying to figure out how much Garden Compost you need? Just use our yardage calculator below.
---
See Pricing
Garden Soil & Compost Delivery Area.
Pick up garden soil and compost yourself at our Hartford, Wisconsin store, or we will delivery any amount directly to your property. Our typical service area is in Washington County towns like Hartford, Slinger, Jackson, Erin and West Bend areas. We also commonly delivery within a 25 mile radius of our store which includes most of Waukesha County, some Dodge and some of Milwaukee County:
WASHINGTON COUNTY
Hartford
Slinger
Germantown
West Bend
Kewaskum
Jackson
Richfield
Ashippun
WAUKESHA COUNTY
Waukesha
Brookfield
Merton
Menomonee Falls
Sussex
Oconomowoc
Pewaukee
Delafield
OTHER CITIES
Horicon
Hustisford
Ashippun
Mequon
Cedarburg
Grafton
Watertown
Call for more!
Get a Delivery Quote for Garden Compost.