Lawn Weed Control & Fertilizer.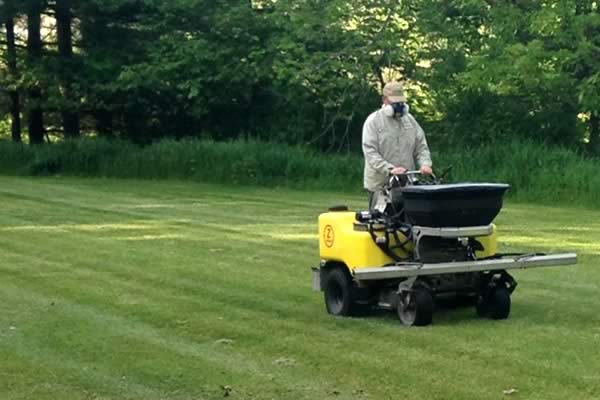 Using our Lawn Weed Control Services and a Fertilizer Program is a sure way to have a rich, dark lawn free from weeds this season. We provide professional lawn fertilization to local home and business owners in the Hartford, Slinger, Jackson, Erin and West Bend areas of SE Wisconsin.
Why fertilize your lawn? The most important thing you can do for your lawn is feed it. Just like our bodies, giving your lawn the proper nutrients it needs is key for a stronger lawn. Supplying your lawn with the food/nutrients it needs helps protect your lawn from stresses like heat, cold, drought, mowing, and foot traffic. This in the secret to making your lawn the most green, lush yard in the neighborhood.
Why use lawn weed control services? The next best thing to feeding your lawn is to protect your lawn. Just like grass, weeds are a living thing that take the nutrients and water away from your lawn. They can become invasive if not maintained and eventually ruin your lawn.
Contact us to request a quote! We offer several weed control solutions to help your lawn look its best!
Our Lawn Weed Control & Fertilizer Program.
Our 6 step lawn program is completed in 4 visits.
This offers a balanced solution to both lawn weed control and fertilization, giving your lawn the nutrients it needs all year while protecting and extinguishing the weeds in your lawn before and during the growing season. Our program includes granule and liquid applications. We make sure to get your lawn enough nitrogen, phosphorus, and potassium during the times it needs it most to maximize the potential of your lawn. We do this while still targeting and preventing those pesky weeds such as crabgrass, clover, dandelions, and many other broadleaf weeds.

Application #1:
Granule Fertilizer with dimension (crab grass preventer)

Application #2:
Granule Fertilizer
Application #3:
Herbicide Spray

Application #4:
Granule Fertilizer
Application #5:
Herbicide Spray

Application #6:
Granule Winterization Fertilizer
Get a Quote.
Contact Advance Lawn Service Company today to discuss your lawn care, lawn fertilizing, landscaping, or snow removal needs. We're here to help! Just call 262.623.2207 or fill out a quick form online for the fastest service!