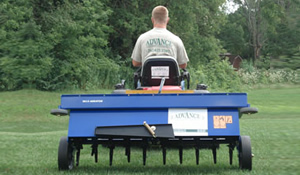 There is more to advanced lawn services than regular mowing. To help maximize the potential of your lawn we offer many other lawn care services. The top services outside of grass cutting are core aeration with overseeding and lawn repair. We help local home and business owners in the Hartford, Slinger, Jackson, Erin and West Bend areas of SE Wisconsin.
We recommend lawn aeration and overseeding in the spring . Core aeration is the process of poking small holes in the lawn to allow oxygen and other nutrients a direct path to the root structure of your lawn. Overseeding immediately after aerating is also important if you want a thicker lawn with lots of new growth. These are the two top ways to improve your lawn in the spring and give your lawn the best chance for a great growing season. We encourage you to take your lawn to the next level this season and contact us to see what Advance Lawn Services Company can do for you!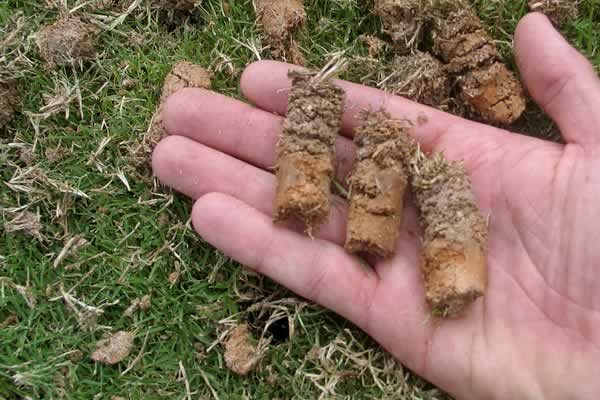 Lawn Aeration.
Lawn compaction is a real thing that can hinder the growth of your lawn. We recommend lawn aeration in the spring or fall to loosen up that compacted soil, and allow water and other nutrients to the roots of your lawn. Give your lawn the attention it needs and request a quote today.
Lawn Repair & Fixing Dead Spots.
Pet stains and a buildup of thatch can cause dead spots that require lawn repair. This is not only unsightly but also is bad for the overall health of the lawn. Whatever the damage is from, we can analyze and repair the issue giving your lawn the consistent look that you deserve. Don't let your lawn be an eyesore anymore! Request an estimate today!
Get a Quote.
Contact Advance Lawn Service Company today to discuss your lawn care, lawn fertilizing, landscaping, or snow removal needs. We're here to help! Just call 262.623.2207 or fill out a quick form online for the fastest service!